This will be fun to watch as there's no shortage of opposition, and the opposition tends to fair well in Telluride as they're the most vocal. Real estate is booming in the town of Telluride, so these lots would be high in demand. Dan Henschel, real estate, Telluride.....
Hillside application receives preliminary approvals
Nineteen single-family homes could be built
Print

Font Size: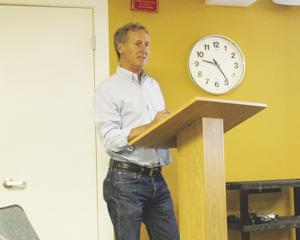 Planning and Zoning Commission
Paul Major spoke out against a conceptual planned-unit development application for 19 single-family homes in the Northeast Hillside area at a Planning and Zoning Commission meeting on Thursday night. (Photo by Jessica Kutz/Telluride Daily Planet)
Posted: Sunday, July 30, 2017 9:00 am
By JESSICA KUTZ, Staff Reporter
A conceptual planned-unit development application for 19 single-family homes in the Northeast Hillside area was approved with conditions by a unanimous vote from the Planning and Zoning Commission on Thursday.
The applicant, attorney Tom Kennedy, and Dirk De Pagter, a local real estate broker, represented landowner Windhorse Properties LLC.
The conceptual PUD application sought to replat 68 lots in the Northeast Hillside area into 19 lots, and requested several variances for details related to lot size, width and density. The plan also asked for one private open space lot and an extension of Primrose Lane to allow access to the residences, as well as a geohazard fence that would be constructed above the lots.
"Their application proposed that these variations allow them to cluster the development in a way that is more compliant with the Hillside master plan and the land use code and provides more open space which is a public benefit," Ann Morgenthaler, the town's interim building and planning director said during the presentation.
With the ability to cluster the lots, the applicant is willing to dedicate 142,910 square feet of open space to the town to create a public trail.
Several members of the public sent letters or spoke at the meeting against the proposal.
George Parker, an East End resident who said he lives directly below the proposed subdivision, said the plan poses a "serious safety issue that could lead to slope failure and destruction of the homes below," in his letter to the commission.
At the meeting, Parker referenced the materials prepared by the applicant's engineer, stating that the documents only included a cursory slope stability analysis and does not guarantee the safety of the development.
In a rebuttal, Kennedy noted to the commission that it is standard to produce a basic study at this stage of the review process and that further down the line a more in-depth analysis will be conducted.
Parker also suggested that the commission not solely rely on work completed on behalf of the applicant, but also conduct an independent study of the area to determine the suitability of the land.
Resident Jenny Russell said she was concerned about the proposed geohazard fence, a point of contention among several other residents.
"It is really high and really visible," she said. " … These fences, they are massive. They are going to be a huge scar on that hillside."
Russell said the area is a well known winter habitat for elk, and that the fence should have several breaks to allow the passing of wildlife.
Another East End resident, Paul Major, said the Hillside master plan is outdated.
"The fundamental issue in this whole discussion … is this is uncharted territory," Major said. "In 1989, the best efforts were put forward to try and develop a plan for the Hillside. (But) it is uncharted and we end up with these absurd applications."
While modern technology allows for new possibilities in construction, Major called what is being proposed on the hillside "extreme access."
"Of course you can build on any slope, you can build on a 90-degree slope, it's called a cave," he said. Regardless, "…when you start building on extreme access … you are going to have large scars on the hillside."
Stephen Ramsey, a landowner who is joining with Windhorse Properties LLC to develop land he has owned on the Hillside for decades, said this is a way to give landowners their property rights back.
"Why do people own land and pay taxes on it and then put up with the idea of not being able to develop it?" he questioned. "We've been blocked numerous times on developing it, and our only solution at this point has been to join with Windhorse.
"There is never going to be an ideal solution as to what goes on the hill, but this is the best that I've seen in the last 28 years."