Visit Telluride and be part of the great stuff going on here. Stay in the town of Telluride or the Mountain Village; you can't go wrong. Look at Real Estate with Dan Henschel.
Luxury Defined presents an international showcase of homes in exclusive celebrity playgrounds
The old adage "You can't take it with you" has an exception among Hollywood's superstars: "Yes, but you can take it on vacation." Herewith, Luxury Defined offers a collection of fabulous homes in posh, post-Oscar getaways habituated by the red carpet set. Even the place names evoke the lifestyles of the glitterati: Cabo San Lucas, Telluride, St. Barts, St. Moritz, Miami Beach, Marrakesh... If you're rich and famous, the chances are you've already been there and fallen in love with these places. If you have yet to thank the Academy, it's time to get going.
Mountain Village Ski Estate
Telluride, Colorado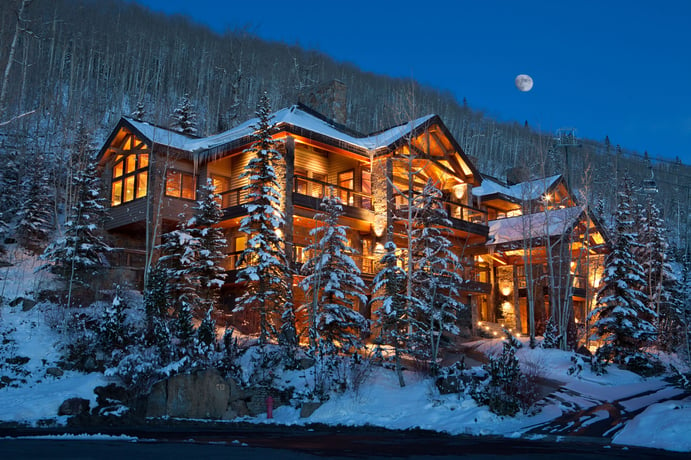 A Colorado mining boomtown until the 1890s, Telluride revived its fortunes in the '60s and '70s as a world-class ski resort, averaging 177 inches of snowfall a year. With its stay-small development ethos, Telluride has preserved its Old West architecture and village ambience, and drawn celebrities in droves.
Nestled on a wooded hillside overlooking the Mountain Village Core, this palatial mountain lodge boasts direct access to Telluride's world-class pistes, close to village amenities and the gondola. The home's bold stone and timber façade integrates perfectly with its setting. Inside, exquisite architectural elements include a two-story, circular staircase; cherrywood cabinetry and doors; and marble and flagstone floors. There are five bedrooms, including two master suites, eight bathrooms, a family room with wet bar and fireplace, a theater, an elevator, and a ski room opening to the trail.